[PcWorld] Europe and US edge closer to data protection deal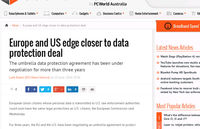 European Union citizens whose personal data is transmitted to U.S. law enforcement authorities could soon have the same legal protections as U.S. citizens, the European Commission said Wednesday. [...]
There are however more hurdles besides equality in judicial redress. The EU also seeks to ensure that data is only transferred for specified law enforcement purposes, and then processed in a way compatible with these purposes. Data of a victim of human trafficking for instance should not be dealt with in the same way as the data of a suspect of human trafficking.
In parallel, negotiations with the U.S. are ongoing to make the "safe harbor" agreement safer. The safe harbor framework gives U.S. companies the ability to process personal data from E.U. citizens while providing data protection as strong as required by EU legislation. [...]
http://www.pcworld.idg.com.au/article/548523/europe_us_edge_closer_data_...