[TheRegister] CIA rendition jet was waiting in Europe to SNATCH SNOWDEN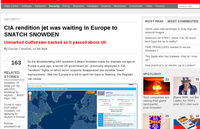 As the whistleblowing NSA sysadmin Edward Snowden made his dramatic escape to Russia a year ago, a secret US government jet - previously employed in CIA "rendition" flights on which terror suspects disappeared into invisible "black" imprisonment - flew into Europe in a bid to spirit him back to America, the Register can reveal. [...]
With its new tail number N977GA the plane became part of the Justice Prisoner and Alien Transportation Systems (JPATS), operated by US Marshals. On perhaps its best-known mission, the jet flew a team of marshals into the UK on 5 October 2012 to collect radical cleric Abu Hamza after the USA won an extradition order against him.
Only Vladimir Putin's intransigence saved Snowden from a similar travel package, complete with free one-way ticket home and fitting for a stylish new orange outfit. Abu Hamza was last seen waving goodbye from a back window on N977GA. [...]
http://www.theregister.co.uk/2014/06/13/cia_rendition_jet_was_waiting_in...