[Reuters] Factbox: What is net neutrality? U.S. debates once again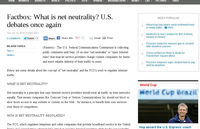 The U.S. Federal Communications Commission is collecting public comments until Sept. 10 on new "net neutrality" or "open Internet rules" that may let service providers charge content companies for faster and more reliable delivery of their traffic to users.
Net neutrality is a principle that says Internet service providers should treat all traffic on their networks equally. That means companies like Comcast Corp or Verizon Communications Inc should not block or slow down access to any website or content on the Web - for instance, to benefit their own services over those of competitors. [...]
Consumer advocates say Wheeler's proposal would create "fast lanes" for companies willing to pay while leaving startups and others behind, which would potentially harm competition. More than 100 technology companies including Google Inc, Facebook Inc and Amazon.com Inc have warned of a "grave threat to the Internet." However, consumer advocates are pushing for reclassification of broadband providers as public utilities, while tech companies in their opposition to pay-for-priority have not supported reclassification. [...]
Internet providers say stricter net neutrality regulations could discourage investment in the expensive network infrastructure. Verizon, in its case against the FCC, argued that the rules amounted to government overreach into companies' business dealings. [...]
http://www.reuters.com/article/2014/06/15/us-usa-internet-neutrality-fac...