[NYTimes] F.C.C., in a Shift, Backs Fast Lanes for Web Traffic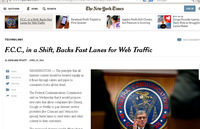 The Federal Communications Commission said on Wednesday that it would propose new rules that allow companies like Disney, Google or Netflix to pay Internet service providers like Comcast and Verizon for special, faster lanes to send video and other content to their customers.
The proposed changes would affect what is known as net neutrality — the idea that no providers of legal Internet content should face discrimination in providing offerings to consumers, and that users should have equal access to see any legal content they choose.
"If it goes forward, this capitulation will represent Washington at its worst," said Todd O'Boyle, program director of Common Cause's Media and Democracy Reform Initiative. "Americans were promised, and deserve, an Internet that is free of toll roads, fast lanes and censorship — corporate or governmental."
http://www.nytimes.com/2014/04/24/technology/fcc-new-net-neutrality-rule...