[Dailydot] Why the U.K. might kill the EU's net neutrality law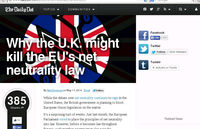 While the debate over net neutrality continues to rage in the United States, the British government is planning to block European Union legislation on the matter.
It's a surprising turn of events. Just last month, the European Parliament voted to place the principles of net neutrality into law. However, before it becomes law throughout Europe, each member country must also pass the legislation. On Thursday, the British government indicated it may veto it instead.
At issue is a new provision that critics argue would restrict the British government's "ability to block illegal material." The amendment made it so that only a court order would allow for the banning of content, and not a legislative provision, as originally proposed, according to RT. [...]