[EurActiv] EU court ruling opens door for "right to be forgotten" on the Internet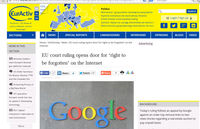 Google could be forced to remove links to news stories about individuals from its search results, following a ruling today (13 May) by the European Court of Justice, backing the EU's drive to introduce a "right to be forgotten" on the Internet. [...]
Joe McNamee of European Digitial Rights (EDRi) said, "In the recent Telekabel case, the ECJ ruled that ISPs can have non-specific injunctions placed on them, and they have to work out the balance between a resonable effort to implement the injunction and the ISPs' responsibilities to defend citizens' fundamental rights. There are, however, no such legal responsibilities."
"In this case, the ECJ ruled that Google can be held liable for failing to remove content, taking into account 'the information in question and its sensitivity for the data subject's private life and on the interest of the public.' When Google has an obligation on one side - delete to avoid a breach of the law - but no obligation regarding the interest of the public, there is clearly an imbalance that needs to be addressed."
"So, we now have two cases from the ECJ where private companies are asked to find a balance between legal obligations on the one hand and freedom of communication on the other." [...]
http://www.euractiv.com/sections/infosociety/eu-court-ruling-opens-door-...