[ArsTechnica] After Netflix pays Comcast, speeds improve 65%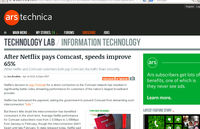 Netflix's decision to pay Comcast for a direct connection to the Comcast network has resulted in significantly better video streaming performance for customers of the nation's largest broadband provider.
Netflix has bemoaned the payment, asking the government to prevent Comcast from demanding such interconnection "tolls."
[...] Comcast's increased speed allowed it to pass Time Warner Cable, Verizon, CenturyLink, AT&T U-verse, and others in Netflix's rankings. Comcast remains slower than Cablevision, Cox, Suddenlink, Charter, and Google Fiber.
http://arstechnica.com/information-technology/2014/04/after-netflix-pays...