[NYTimes] E.U. Lawmakers Approve Tough 'Net Neutrality' Rules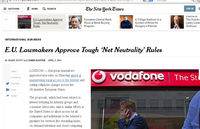 [...] European lawmakers approved new rules on Thursday aimed at guaranteeing equal access to the Internet and cutting cellphone charges across the 28-member European Union.
The proposals, which had been subject to intense lobbying by industry groups and consumer advocates, mirror similar efforts in the United States to allow access by all companies and individuals to the Internet's pipelines for services like streaming music, on-demand television and cloud computing. [...]
http://www.nytimes.com/2014/04/04/business/international/eu-lawmakers-ap...