[TechDirt] USTR Starts To Panic Over Calls To Take Corporate Sovereignty Out Of TAFTA/TTIP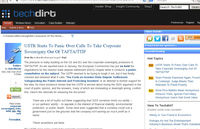 Glyn Moody takes to task the recent publication by the USTR on the ISDS included in TAFTA.
"The pressure is really building on the US and EU over the corporate sovereignty provisions in TAFTA/TTIP. As we reported back in January, the European Commission has put on hold the negotiations for the investor-state dispute settlement (ISDS) chapter while it conducts a public consultation on the subject. The USTR seemed to be trying to tough it out, but it has finally cracked and released what it calls "The Facts on Investor-State Dispute Settlement: Safeguarding the Public Interest and Protecting Investors" in an attempt to bolster support for the idea. [...] "
https://www.techdirt.com/articles/20140328/09183326720/ustr-starts-to-pa...