[TechCrunch] Brazil's 'Constitution Of The Internet' Puts Net Neutrality In The Spotlight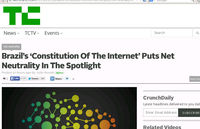 Brazil's Congress is days away from voting on Marco Civil, the country's first major Internet legislation, and the big issue at stake is net neutrality.
The bill, known as the "Constitution of the Internet," has three major themes: net neutrality, freedom of expression, and Internet security. It had been rolling around Congress for two years until Edward Snowden's revelations of the NSA spying on Brazilians — including the president — prompted President Dilma Rousseff to prioritize the bill, suspending voting on all other legislation.
[...] "Without neutrality, the Internet looks more like cable TV, where providers can offer different service packages," said Ronaldo Lemos, a law professor, partner with PNM Advogados, director of the Institute for Technology & Society in Rio de Janeiro, and board member at Mozilla. "Basic service would include email and the social networks. 'Premium' would let you watch videos and listen to music. 'Super Premium' would let you download. Today that sounds like an aberration, but without net neutrality, it's a possibility."
[...] Mass mobilization in support of net neutrality has been the result of efforts by the same players who rose to prominence during Brazil's coming-of-age protests that started last June. They are precisely the kinds of bare-bones budget, activist websites that could suffer discriminated access if net neutrality does not pass.
http://techcrunch.com/2014/03/19/brazils-constitution-of-the-internet-pu...