[ComputerWorldUK] Help: EU Net Neutrality Consultation Closes Today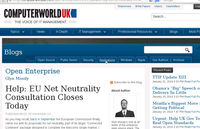 Glyn Moody writes that "the European Commission finally came out with its proposals for net neutrality, part of its larger "Connected Continent" package designed to complete the telecoms single market." This article contains his advice to the European Commission of what to change in their proposal:
"In particular, I'd like to urge ITRE not to allow specialised services to be offered, since this will in fact destroy the very net neutrality that the European Commission claims that it is protecting in its regulations. In what follows, I will try to explain why."
http://blogs.computerworlduk.com/open-enterprise/2013/11/please-help-eu-...