[TheGuardian] UK porn filter blocks game update that contained 'sex'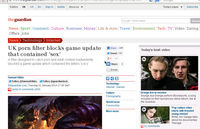 A filter designed to catch porn and adult content inadvertently blocked a game update which contained the letters 's-e-x'.
The firewall being operated by the UK's biggest internet service providers as part of David Cameron's child internet safety campaign has blocked an update of an online video game due which unintentionally included the letters "s-e-x" in its web address.
The update to online strategy game League of Legends was disrupted by the internet filter because the software attempted to access files that accidentally include the word "sex" in the middle of their file names. [...] files named VarusExpirationTimer.luaobj and XerathMageChainsExtended.luaobj (emphasis added) were enough to trigger a block at the internet service provider level.
http://www.theguardian.com/technology/2014/jan/21/uk-porn-filter-blocks-...