[EurActiv] French senators strongly attack EU-US trade deal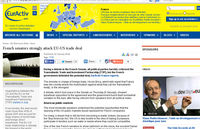 During a debate in the French Senate, all political parties harshly criticised the Transatlantic Trade and Investment Partnership (TTIP), but the French government defended the potential deal, EurActiv France reports.
The minister in charge of foreign trade, Nicole Bricq, admit with regret that France was the country where the mobilisation against what they call the 'transatlantic treaty', is the strongest.
http://www.euractiv.com/eu-elections-2014/french-senators-violently-atta...