[PCAdvisor] EU net neutrality proposal threatens privacy, says data protection supervisor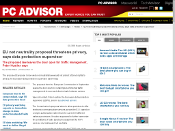 The proposed European Union-wide net neutrality law would not protect citizens' rights to privacy, the European data protection supervisor said Friday.
The proposal from the European Commission in September leaves the door open for certain types of Internet traffic management to scan and discriminate between various types of content, Peter Hustinx, the European data protection supervisor (EDPS), said in a published opinion. […]
Article 23 of the proposal allows Internet traffic management measures for "implementing a legislative provision" and "preventing and impeding serious crimes." Traffic management allows service providers to block or filter the flow of information, so Hustinx is concerned that would significantly limit net neutrality and interfere with end-users' rights to privacy and the protection of personal data. […]
http://www.pcadvisor.co.uk/news/security/3489495/eu-net-neutrality-propo...