[PCWorld] Study: Net neutrality policies vary in EU countries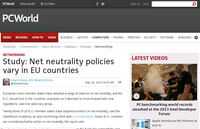 European Union member states have adopted a range of stances on net neutrality, and the E.U. should look to the countries' examples as it attempts to move forward with new regulations, said one advocacy group.
Twenty-three of 28 E.U. member states have adopted positions on net neutrality, said the Openforum Academy, an open technology think tank, in a new report. Seven E.U. countries are considering further action on net neutrality, the report said. [...]
E.U. Digital Agenda Commissioner Neelie Kroes has said a new law would guarantee net neutrality and stop ISPs from blocking or throttling of competing services, but digital rights activists have published leaked drafts of the law that they say shows the opposite. [...]
http://www.pcworld.com/article/2048856/study-net-neutrality-policies-var...