[TorrentFreak] KickassTorrents Domain Seized After Music Industry Complaint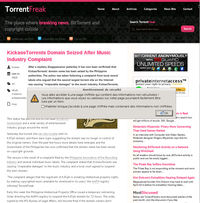 After a mystery disappearance yesterday it has now been confirmed that KickassTorrents' domain name has been seized by the Philippine authorities. The action was taken following a complaint from local record labels who argued that the second largest torrent site on the Internet was causing "irreparable damages" to the music industry. KickassTorrents, however, appears undeterred by the intervention and is continuing business as usual under a new domain name. [...]
While the case is presented as a local action aimed at preventing piracy of original Filipino music, it wouldn't be much of a surprise if U.S. forces have also been applying pressure. In its latest Special 301 Report the U.S. Government listed the Philippines on its copyright "watch list," demanding further action against so-called rogue sites.
"The United States looks to the Philippines to take important steps to address piracy over the Internet, in particular with respect to notorious online markets," the Office of the United States Trade Representative wrote in its report. [...]
https://torrentfreak.com/kickasstorrents-domain-seized-after-music-indus...