[CIO] Conference Highlights Gap Between EU, US Data Privacy Approaches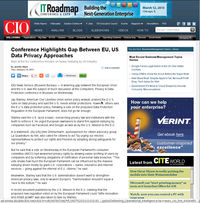 IDG News Service (Brussels Bureau) — A widening gap between the European Union and the U.S. was the subject of much discussion at the Computers, Privacy & Data Protection conference in Brussels on Wednesday. [...]
In a statement, Jérémie Zimmermann, spokesperson for citizen advocacy group La Quadrature du Net, also called for citizens to act "by urging our elected representatives to protect our rights and freedom by adopting strong safeguards for our privacy."
But he said that a vote on Wednesday in the European Parliament's consumer committee (IMCO) had weakened privacy rights by allowing easier profiling of users by companies and by softening obligations of notification of personal data breaches. "This vote shows how much the European Parliament can be influenced by the massive lobbying driven mostly by giant U.S. corporations -- banks, insurance and Internet services -- going against the interest of E.U. citizens," he said. [...]
http://www.cio.com/article/727604/Conference_Highlights_Gap_Between_EU_U...