[ComputerActive] European Parliament to decide fate of ACTA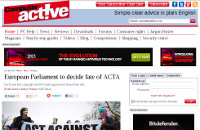 The European Parliament (EP) will decide the fate of the ACTA treaty on Wednesday.
Five EU parliamentary committees, including the International Trade (INTA) committee of the EP, have already recommended that the deeply unpopular and controversial treaty should be rejected. [...]
"A definitive rejection of ACTA would represent a tremendous victory for citizens around the globe, and for European democracy and citizenship," said French digital advocacy group La Quadrature du Net.
The online pressure group said that while it is "time to reform copyright and patent regimes", this should be in favour of citizens, and contributors and policymakers should develop "a framework fit for the digital age". [...]
http://www.computeractive.co.uk/ca/news/2188579/european-parliament-deci...