[TechDirt] ACTAfacts? ACTAfiction? Or Just Unsourced Pro-ACTA Propaganda Purporting To Be Objective?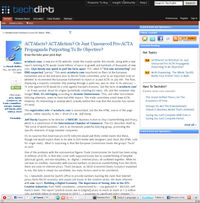 actafacts.com, a new pro-ACTA website, made the rounds earlier this month, along with a new report claiming ACTA would create billions of euros in growth and hundreds of thousands of new jobs. [...] This week actafacts.com resurfaced on fliers at the European Parliament and on the entrance door to the EU Trade committee, prior to an important vote on whether to recommend the European Parliament to reject or accept ACTA on July 4th. [...] Oh, and the container ship image? Yeah, it's infringing according to Jeremie Zimmermann. [...]
Yes, that's right, in a refreshing moment of candor, Hardy appears to be admitting that all he cared about was making sure the number was "big enough," not particularly "accurate." That seems like a "fact" worth keeping in mind when you judge these "actafacts."
http://www.techdirt.com/articles/20120625/15033219471/actafacts-actafict...