[TechDirt] EU Commissioner Reveals He Will Simply Ignore Any Rejection Of ACTA By European Parliament Next Week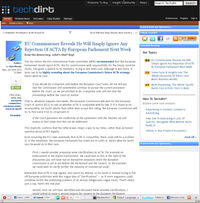 The day before the EU's International Trade committee (INTA) recommended that the European Parliament should reject ACTA, the EU commissioner with responsibility for the treaty, Karel De Gucht, had given a speech to its members, trying to win them over. Although it was short, it turns out to be highly revealing about the European Commission's future ACTA strategy. Here's what he said:
If you decide for a negative vote before the European Court rules, let me tell you that the Commission will nonetheless continue to pursue the current procedure before the Court, as we are entitled to do. A negative vote will not stop the proceedings before the Court of Justice.
[...]
http://www.techdirt.com/articles/20120625/12333619468/eu-commissioner-re...