[TheInquirer] European Parliament committees vote to reject ACTA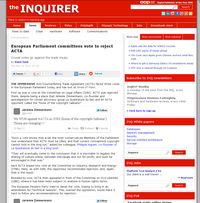 The oppressive Anti-Counterfeiting Trade Agreement (ACTA) faced three votes in the European Parliament today, and has lost all three of them.
First up was a vote at the Committee on Legal Affairs (JURI). ACTA was rejected there, despite being a place that Jérémie Zimmermann, co-founder and spokesperson for citizen advocacy group La Quadrature du Net and an ACTA opponent called the "home of the copyright talibans!"
"Such a vote shows that even the most conservatives Members of the Parliament now understand that ACTA must be killed, and that current conceptions copyright cannot hold in the long run," added his colleague, Philippe Aigrain, co-founder of La Quadrature du Net in a blog post. [...]
ACTA's next vote is in front of the third world development committee DEVE, then it will find itself in perhaps what is its spiritual home, INTA, the international trade committee, in mid-June. A final vote in the European Parliament should happen in the first week of July.
Although ACTA and its supporters got their faces smacked today that does not mean that the struggle is over. [...]
http://www.theinquirer.net/inquirer/news/2181320/european-parliament-com...