[Guardian] Internet freedom 'under threat from hasty legislation in UK and US'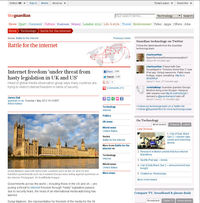 Head of global media observation group says many countries are trying to restrict internet freedom in name of security.
Governments across the world – including those in the US and UK – are posing a threat to internet freedom through "hasty" legislation passed due to security fears, the head of an international media watchdog has warned. [...]
"The obsession to control the internet is showing we are not heading in the right direction, and the countries of the west are not immune to criticism – I have already raised Acta [an international intellectual property treaty that has been likened to Sopa, a US anti-piracy bill] with the president of the EU parliament." [...]
She concluded that ultimately it is civil society – the media and activists – who keep the media and internet free, and said this was not yet established in many transition countries. Citing the huge online campaign against the US legislation against intellectual property violations, she says: "These showed an engaged civil society can stop these actions. Elsewhere, there's an apathy. [...]
http://www.guardian.co.uk/technology/2012/may/01/internet-freedom-threat...