[TechDirt] ACTA Closer To Death: Remaining EU Supporters Contemplate Rejecting It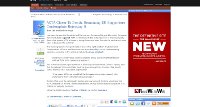 Last week we saw the Socialists and Democrats, the second-largest bloc in the European Parliament, turn against ACTA. Combined with the stated position of the Green party there, that means ACTA is closer to being thrown out when the vote for ratification takes place in Brussels this summer.
The deciding factor is how politicians in the centre-right coalition of Liberals and Conservatives will vote, and there are now signs that they too are contemplating rejection [...]
The fact that even the centre-right parties are now seriously thinking about rejecting ACTA, and what to do next, means that while ACTA may not be dead in Europe yet, it is looking increasingly moribund.
http://www.techdirt.com/articles/20120416/12122518507/acta-closer-to-dea...