[ItWorld] EU Parliament to vote on ACTA without waiting for a court decision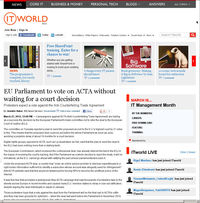 Campaigners against ACTA (Anti-Counterfeiting Trade Agreement) are hailing as a success the decision by the European Parliament's trade committee not to refer the deal to the European Court of Justice (ECJ).
The committee on Tuesday rejected a plan to send the proposed accord to the E.U.'s highest court by 21 votes to five. This means that the proposed deal could be put before the whole Parliament as soon as June, avoiding a possible delay of about 18 months for a court decision.
Digital rights groups opposed to ACTA, such as La Quadrature du Net, said that " the plan to send the deal to the ECJ had been nothing more than a stalling tactic. " [...]
http://www.itworld.com/government/262642/eu-parliament-vote-acta-without...