[EuObserver] EU commission admits mistake on Acta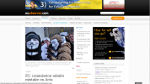 The European Commission has said it was surprised by the scale of opposition to a global anti-counterfeit treaty, having underestimated the power of social media to mobilise protesters. [...]
"What is the power of the people? We saw it recently here in January and February when we suddenly realised that, in spite of the freezing temperatures, we had thousands of people in different squares in Europe protesting against Acta." [...]
The protests took place in several cities in Europe, resulting in a series of member states deciding to suspend ratification. The European Parliament, which can reject the treaty, received a two-million strong global petition against Acta.
The commission for its part made tactical semi-retreat in February by saying it would turn over the treaty to the EU's highest court to see if it breached any EU laws, particularly on privacy.. [...]
Martin Schulz, head of the European Parliament, recently suggested that by taking the court step, the commission had removed the immediate chance for parliament to discuss an issue that citizens feel strongly about.