[EurActiv] EU regulators say telecoms block Skype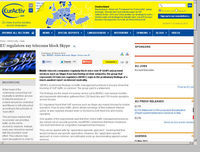 Mobile telecom companies regularly block voice over IP (VoIP) and prevent services such as Skype from functioning on their networks, the group that represents EU telecom regulators (BEREC) says in the preliminary findings of a much-awaited report on internet neutrality. [...]
The main concerns - which BEREC did not spell out but which are underlined by some sector analysts - are that telecom companies may hamper competition on online platforms, blocking services which could rival their offers.
With its online free-call offers and cheap telephone services, Skype provides a popular alternative to telecoms operators. By diverting traffic from VoIP services to other activities, telecoms may therefore possibly harm rivals. [...]
The European commissioner in charge of telecoms, Neelie Kroes, so far has not taken a clear position on the thorny subject. [...]
http://www.euractiv.com/infosociety/eu-regulators-telecoms-block-skype-n...