[V3] ISPs and mobile operators regularly throttle traffic, report finds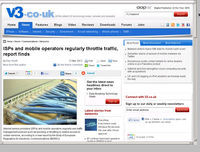 Internet service providers (ISPs) and mobile operators regularly use traffic management policies such as blocking or throttling to restrict access to certain services, according to a new report by the Body of European Regulators for Electronic Communications (BEREC).
The European ISP watchdog announced the findings after a three-month investigation in conjunction with the European Commission (EC) that involved discussions with some 400 operators on how they handle large demands placed on their networks.
Chief among the services regularly limited include peer-to-peer (P2P) file-sharing and Voice over Internet Protocol (VoIP) tools, with operators admitting to using deep-packet inspection technology to detect when these technologies are in use. [...]
Jérémie Zimmermann, spokesperson for citizen advocacy group La Quadrature du Net, said " the revelation that firms use management policies, including (DPI), proved European commissioner for the Digital Agenda, Neelie Kroes, must introduce net neutrality laws.
http://www.v3.co.uk/v3-uk/news/2158824/isps-mobile-operators-regularly-t...