[NyTimes] Pakistan Builds Web Wall Out in the Open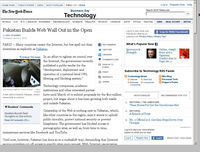 Many countries censor the Internet, but few spell out their intentions as explicitly as Pakistan.
In an effort to tighten its control over the Internet, the government recently published a public tender for the "development, deployment and operation of a national-level URL filtering and blocking system." [...]
While China and other governments that sanitize the Internet generally do so with little public disclosure, Pakistan is being surprisingly forthcoming about its censorship needs. It published its request for proposals on the Web site of the Information and Communications Technology Ministry's Research and Development Fund and even took out newspaper advertisements to publicize the project. [...]
To try to prevent this from happening, Ms. Saleem wrote to the chief executives of eight international companies that make Net filtering technology, asking them to make a public commitment not to apply for the Pakistani grant.
http://www.nytimes.com/2012/03/03/technology/pakistan-builds-web-wall-ou...