[Novinite] Bulgaria: ACTA to Enter Bulgarian Parliament, Set to Be Killed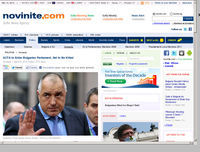 [...] On January 26, 2012, the Bulgarian government signed in Tokyo the international ACTA agreement, vowing to make downloading content similar to forgery of brands.
The agreement was sealed by Bulgarian ambassador to Japan Lyubomir Todorov, based on a decision by the Bulgarian cabinet taken hastily on January 11.
Transcripts from the meeting of the Council of Ministers from January 11 reveal that it had been Economy Minister, Traicho Traikov, who had made the proposal.
Anti-ACTA protests took place in 16 Bulgarian and 150 European cities in mid-February.
In the aftermath, Bulgaria's government announced that it is halting the ratification. [...]