[MaltaToday] FZL says government should withdraw support for ACTA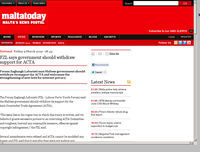 The Forum Zaghzagh Laburisti (FZL - Labour Party Youth Forum) said the Maltese government should withdraw its support for the Anti-Counterfeit Trade Agreement (ACTA).
"The issue lies in the vague way in which this treaty is written and we believe it grants excessive powers to an overruling ACTA Committee and toughens, beyond any reasonable measure, offences against copyright infringement," the FZL said. [...]
"Because of its shortcomings, we think the Maltese Government should stand with its people and retreat its support to ACTA. Although it could be argued that ACTA could be countered by amendments to our laws at national level, we still believe that our government should not support this treaty," the FZL said. [...]
The FZL said that the ACTA treaty should be considered a blessing in disguise. "It has brought these important issues to the attention of the general public. It is therefore important that we take advantage of the momentum we have gained and legislate to right these wrongs for the benefit of all the stakeholders."
http://www.maltatoday.com.mt/en/newsdetails/news/national/FZL-says-gover...