[TechDirt] Danish Police Accidentally Censor Over 8,000 Sites As Child Porn... Including Facebook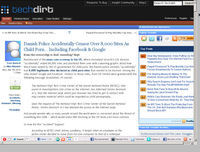 Reminiscent of the mooo.com screwup in the US, where Homeland Security's ICE division "accidentally" seized 84,000 sites and plastered them over with a warning graphic about how they'd been seized by the US government for child porn, the Danish police similarly "accidentally" had 8,000 legitimate sites declared as child porn sites that needed to be blocked. Among the sites listed? Google and Facebook. [...]
According to NITEC chief Johnny Lundberg, it began when an employee at the police center decided to move from his own computer to that of a colleague.
"He sat down and was about to make an investigation, and in doing so he placed a list of legitimate sites in the wrong folder," Lundberg explained. "Before becoming aware of the error, two ISPs retrieved the list of sites." [...]
http://www.techdirt.com/articles/20120302/12215817953/danish-police-acci...