[Europeanvoice] Parliament urged to seek legal opinion on ACTA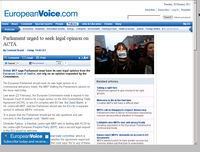 British MEP says Parliament must have its own legal opinion from the European Court of Justice, not rely on an opinion requested by the Commission. [...]
Christofer Fjellner, a Swedish centre-right MEP who is dealing with ACTA for the centre-right European People's Party (EPP), said a second legal request to the ECJ would be welcome.
Martin said that the Parliament's international trade committee, which is reviewing the accord, would want to know whether the agreement respected EU laws as well as fundamental rights. "If the court says 'No' to any of these things, ACTA, in my opinion, is dead," said Martin. [...]
On Tuesday, a petition signed by nearly 2.5 million people demanding that MEPs reject ACTA was submitted to the Parliament's petitions committee.
[...]
Eminia Mazzoni, an Italian centre-right MEP and chair of the petitions committee, said her committee would decide in the coming days whether the petition would lead to a special hearing on ACTA.
http://www.europeanvoice.com/article/2012/february/parliament-urged-to-s...