[V3.co.uk] ECJ rules hosting sites cannot be made to filter content in another blow to ACTA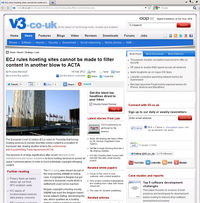 The European Court of Justice (ECJ) ruled on Thursday that forcing hosting services to monitor and filter online content is a violation of European law, dealing another blow to the controversial Anti-Counterfeiting Trade Agreement (ACTA). [...]
The decision is of large significance after recent attempts by the entertainment and music industries to force hosting services to screen all users' communications in order to block potentially copyright-infringing content. [...]
"The decision will definitely have an impact on any attempts by the entertainment industry to go to court to impose mechanisms on internet intermediaries," said Jeremie Zimmermann, a spokesman for the French advocacy group, La Quadrature du Net (LQDN), in an interview with V3.
"The ECJ ruling proves what we having been saying for so long that private and censorship schemes are against internet users' fundamental rights."
Zimmermann said the ruling could affect the success of the ACTA, an international treaty aimed to protect the rights of copyright holders against the threat of internet piracy.
http://www.v3.co.uk/v3-uk/news/2152991/ecj-rules-hosting-sites-filter-co...