MEP David Martin becomes ACTA rapporteur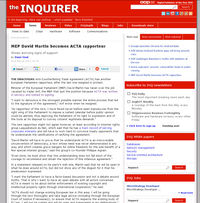 THE DRACONIAN Anti-Counterfeiting Trade Agreement (ACTA) has another European Parliament rapporteur, after the last one resigned in protest.
Minister of the European Parliament (MEP) David Martin has taken over the job vacated by Kader Arif, the MEP that quit the position because ACTA was written in secrecy and rushed to signing.
"I want to denounce in the strongest possible manner the entire process that led to the signature of this agreement," Arif wrote when he resigned. […]
The new rapporteur might not agree however, at least according to internet rights group Laquadrature du Net, which said that he has a track record of serving corporate interests and will have to work hard to convince treaty opponents that he understands the ramifications of ratifying the agreement.
"David Martin will have to prove that he understands ACTA is an irrecoverable circumvention of democracy, a text whose need was never demonstrated in any way, and which creates grave dangers for online freedoms for the sole benefit of a few special interest groups," said the group's co-founder Philippe Aigrain.
"Even more, he must show that this understanding does not fall short of the courage to recommend and obtain the rejection of this infamous agreement." […]
http://www.theinquirer.net/inquirer/news/2144717/mep-david-martin-acta-r...