[GlobalPost] EU struggles to get its ACTA together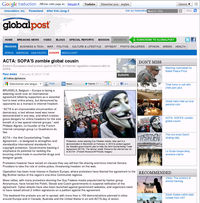 Europe is facing a widening revolt over an international agreement billed by supporters as a essential tool to beat online piracy, but denounced by opponents as a menace to internet freedom.
"ACTA is an irrecoverable circumvention of democracy, a text whose need was never demonstrated in any way, and which creates grave dangers for online freedoms for the sole benefit of a few special interest groups," said Philippe Aigrain, co-founder of the French Internet campaign group La Quadrature du Net. [...]
http://www.globalpost.com/dispatch/news/regions/europe/120208/acta-sopas...