ACTA: Letter to the EU Parliament Development Committee
Today, La Quadrature du Net sent a letter to the Members of the Development committee of the European Parliament. All citizens should also call on the committee to carefully consider the many serious issues raised by ACTA, the anti-counterfeiting trade agreement aimed at establishing extremist standards in copyright, patent and trademarks worldwide.
La Quadrature has set up a wiki campaign page to help you get in touch with MEPs in the DEVE committee1.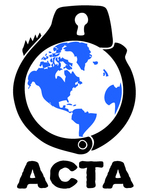 The "Development" committee (DEVE) of the EU Parliament is starting its work on ACTA by debating its draft opinion report2 on ACTA, presented by its rapporteur Jan Zahradil3, a conservative, euro-skeptic representative from the Czech Republic. The DEVE committee will meet around 4:30 pm today to discuss ACTA4.
To underline the crucial issues raised by ACTA, La Quadrature du Net has sent a letter to the members of the DEVE committee. La Quadrature stresses in particular how ACTA was — from the beginning of the negotiations — meant as an agreement to be imposed on developing countries. The letter also points to the human rights concerns regarding the impact of ACTA on access to medecines and free speech online. Finally, the letter insists on ACTA's lack of democratic legitimacy.
Every citizen can contribute to defeat ACTA by contacting members of the EU Parliament (MEPs) and informing them of this illegtimate agreeement's dangers and the need to reject it.

La Quadrature's letter to DEVE committee
To: Members of the DEVE committee

Subject: Exchange of views on ACTA : Crucial issues need to be considered

Dear Member of the Development Committee,

Today, you will hold a first exchange of views on the draft opinion report presented by Mr. Jan Zahradil on ACTA. We write to you to express grave concerns regarding the substance of this draft report.

Many crucial issues raised by ACTA are completely overlooked. In particular, the fact that its negotiators purposefully chose to bypass international forums, such as WTO and WIPO. Last year, leaked US diplomatic cables showed that from the beginning, ACTA was designed to be imposed on developing countries, while excluding them of the negotiation process.[1] This all the more shocking that many NGOs such as Oxfam, Doctors Without Borders and Health Action International have shown that ACTA would have negative consequences on the legitimate trade of generic medicines.[2]

Moreover, several advocacy groups also stress that ACTA's digital chapter will export to developing countries several civil and criminal measures to fight the sharing of online culture. ACTA would provide the legal justification for measures such as those proposed in the extremist copyright bills discussed by the US Congress (known as "PIPA" and "SOPA"). Though these US bills have been shelved after huge online protests, ACTA would pave the way for similar extra-judicial measures undermining freedom of speech online and innovation in the digital economy. It would have dramatic consequences, especially in countries that don't have the same fundamental rights protections as the EU. [3]

Finally, ACTA has absolutely no democratic legitimacy. Indeed, it was drafted by a small group of unelected officials in charge of promoting the interests of rights holders in their respective countries — not by legitimate democratic representatives. And now, Members of the European Parliament are asked to approve these new criminal sanctions without the possibility to amend them. If ACTA were to be ratified in Europe, it would undermine the very democratic values on which the Union was founded.

As protectors of the public interest, we trust that you will fully consider these important issues, and amend the draft report to that effect.

Sincerely,

La Quadrature du Net.

1. http://www.laquadrature.net/en/wikileaks-cables-offer-new-insight-on-the...
2. http://www.laquadrature.net/wiki/Against_ACTA
3. http://www.laquadrature.net/en/node/4104/