[BoingBoing] Europeans: EU to vote on ACTA, get informed and involved!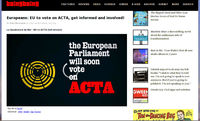 ACTA [...] is a punishing, secretly negotiated copyright treaty that could send ordinary people to jail for copyright infringement. The EU will soon vote on it. Here's a video for Europeans who want to learn more before their representatives vote to criminalize them, their children and their neighbours.
On the occasion of the Free Culture Forum in Barcelona, La Quadrature du Net releases three films to inform citizens and urge them to take action against ACTA, the Anti-Counterfeiting Trade Agreement.
http://boingboing.net/2011/10/29/europeans-eu-to-vote-on-acta-get-inform...