[CIO] European Parliament gets it right on net neutrality say digital liberties groups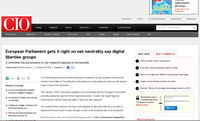 Civil liberties groups have broadly welcomed a resolution by the European Parliament's Industry Committee on Thursday that puts pressure on law-makers to come up with tougher rules in favor of net neutrality.
The content of the resolution has been hotly debated by the committee for a number of weeks and the end result is more strongly in favor of net neutrality than first envisioned.
It [...] includes a loophole, which risks being interpreted as accepting restrictions on mobile Internet on the pretext of alleged network congestion, according to La Quadrature du Net.
[...] Kroes must break away from her 'wait and see' approach and take action to effectively protect competition, innovation as well as citizens' freedom of expression and privacy online," said Jérémie Zimmermann, spokesman for La Quadrature du Net, a French online rights group.
http://www.cio.com.au/article/404955/european_parliament_gets_it_right_n...