[Computerworlduk] Groups to monitor EU telcos restricting online access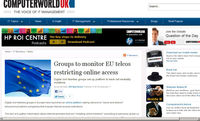 Digital civil liberties groups in Europe have launched an online platform asking citizens to "name and shame" telecommunications companies that impose internet access restrictions.
The aim is to gather information about internet providers that are "violating online freedom" according to advocacy group La Quadrature du Net. Large telecom providers want to "control what you do online," the organization claims. "They want to block and throttle some of your communications, and charge you to use certain online services, content and applications."
http://www.computerworlduk.com/news/it-business/3305988/groups-to-monito...