[Ip-watch.Org] "Washington Declaration" Demands Return Of Public Interest In IP Rights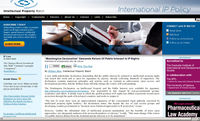 A new multi-stakeholder declaration demanding that the public interest be returned to intellectual property rights was issued this week and is open for signatures by anyone, already collecting hundreds of supporters. The declaration contains numerous principles and actions, such as restraint in enforcement, open access, and development priorities, that the drafters hope will help change the course of IP policymaking.
The Washington Declaration on Intellectual Property and the Public Interest, now available for signature, http://infojustice.org/washington-declaration, was negotiated in late August by non-governmental groups, academics and others. It details ways in which the global position of IP rights has shifted ceaselessly toward more protection through the push of developed countries, and seeks to temper it. […]
http://www.ip-watch.org/weblog/2011/09/10/%E2%80%9Cwashington-declaratio...