[ComputerActive] Sarkozy angers privacy groups as he promotes state control of web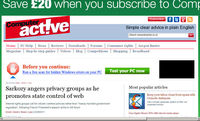 French President Nicolas Sarkozy sparked fury among internet rights groups after he called for increased state internet control at last month's e-G8 forum.
However critics who were watching the two-day conference on the future of the internet, which preceded the official G8, argued that this was just another way for more government interference.
A joint statement from rights groups La Quadrature du Net and Access Now said: "The world's most developed economies are poised to impose strict copyright enforcement and heavy-handed government regulation of the internet.
http://www.computeractive.co.uk/ca/news/2075650/sarkozy-angers-privacy-p...