[OreillyRadar] At the eG8, 20th century ideas clashed with the 21st century economy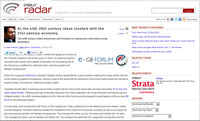 At the the inaugural eG8 Forum, President Nicolas Sarkozy would deliver a grand speech extolling the virtues of the Internet while cautioning against its excesses, making a case to the world that the dynamism of the online world should be civilized to respect privacy, security and intellectual property rights.
In an impromptu press conference held on the ground of the eG8 Forum, Jérémie Zimmermann, co-founder of La Quadrature du Net, Jarvis, Lessig, Benkler, former ICANN board member Susan P. Crawford, and Jean-François Julliard, director of Reporter Sans Frontières, all made it clear that there was not a consensus about the principles or rules of the road for the Internet.
Benkler was baffled that opposition to the open model of innovation persists after 15 years, as if "we've learned nothing," calling the assumptions made on the intellectual property panel on the first day of the eG8 laughable. "Whether liberty, equality or fraternity, we all have to be on the same page about retaining an open Net," he said.
http://radar.oreilly.com/2011/05/eg8-2011-internet-freedom-ip-copyright....