[Opinion.Financialpost] Terence Corcoran: Start of the ­revolution ­without the Net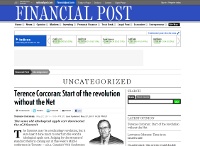 The same old ideological apple cart dominated the eG8 Summit […]
government versus individuals, radicals versus corporations, corporations versus corporations, repression versus freedom, statism versus capitalism. It looks new because the technology is new, but the arguments are as familiar and predictable as the dialogue during a third viewing of a favourite Seinfeld rerun.
In Paris, the eG8 was put on by French President Nicolas Sarkozy in an apparent attempt to put the G8 Summit on the Internet map. A Who's Who of tech giant CEOs […] appeared along with a bevy of U.S. net neutrality activists and stand-up intellectuals […]
One result of the eG8 is a final G8 communiqué issued Friday that contained a whopping 1,300 words on the Internet issue alone, more than 10% of a document that otherwise deals with the world economy, world peace, earthquakes, climate change, nuclear safety, innovation and biodiversity.
The communiqué's Internet clauses were immediately dismissed by France's modern version of student revolutionaries, a group called La Quadrature du Net, whose slogan is "Defend a Free Internet." In a statement, Philippe Aigrain, co-founder of La Quadrature, said:
This whole episode has shown that there is not much to expect from these few governments who lend their ears to special interests. G8 governments shun the historic responsibility of recognizing the necessary conditions for the Internet to be truly open. They fail to even consider proposing a reform of copyright, abstain from committing to Net neutrality or from protecting users of the malpractices of online businesses. […]
http://opinion.financialpost.com/2011/05/27/terence-corcoran-start-of-th...