[Euractiv] EU set to unveil neutral net neutrality plans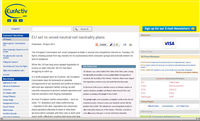 The European Commission will unveil proposals to foster a neutral and competitive Internet on Tuesday (19 April), drawing praise from big industry for its cautiousness while consumer groups and activists lament its lack of substance.
The EU paper admits that problems have been detected such as blocking of Internet telephony and anticompetitive traffic management, but also claims these have so far been dealt with by a national regulator or negative media coverage.
According to Jérémie Zimmermann, the founder of the Internet advocacy group, Bouygues, SFR and Orange [...] are already infringing net neutrality by banning VOIP, peer-to-peer file sharing and discussion forum newsgroups on their mobile connections.
http://www.euractiv.com/en/infosociety/eu-set-unveil-neutral-net-neutral...