[BroadbandChoice.co.uk] EU parliament backs free wireless broadband technology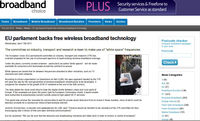 The European Union (EU) parliament's committee on industry, transport and research (ITR) has unveiled proposals for the use of unlicensed spectrum to boost existing wireless broadband coverage.
Jeremie Zimmerman, co-founder and spokesperson for LQN, said: "Citizens should be thankful to the members of the ITR committee for their encouraging vote in favour of free and open wireless communications."
But he cautioned: "We can be sure that the telecoms and broadcasting industries will lobby hard in order to remain in control of airwaves."
http://www.broadbandchoice.co.uk/news/eu-parliament-backs-free-wireless-...