[ArsTechnica] La Taxe Google is back, this time to help French ISPs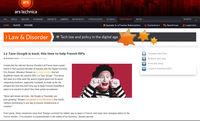 "Some well-known services, like Google or Facebook, are ever-growing," Besson complained to his Parliament this month, "without contributing in any way to finance infrastructure or creation."
A government report released last July suggested that Google and other hegemons of the 'Net pay fees on their online advertising revenues. This would subsidize a universal music site offering inexpensive downloads for impoverished Sorbonne students, obviating their need to turn to isoHunt and other frowned-upon portals.
Capital.fr reports that it's a very cozy time to be in the ISP business over there. The average operating margin of leading providers like French Telecom's Orange is around 17.4 percent—"comparable to that of the luxury giants Hermes and Dior."
Despite this, Orange reduced its investment in networks by about six percent in 2009. "Does France Telecom lack ideas?" the article wonders out loud.
http://arstechnica.com/tech-policy/news/2011/02/la-taxe-google-is-back-t...