[Computerworld] Clinton's visit highlights ACTA scepticism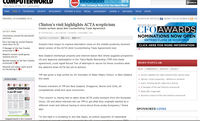 Sceptics have begun to express alternative views on the initially positively received latest version of the ACTA (Anti-Counterfeiting Trade Agreement) text.
Shera and French internet lobby La Quadarature du Net both point with concern to a paragraph in the current ACTA text , obliging signatories to provide enforcement measures with respect to at least copyright and trademarks "including the unlawful use of means of widespread distribution for infringing purposes" .
La Quadrature du Net also expresses fears a special-purpose committee established to consider "development" and amendments to ACTA might short-circuit more recognised international bodies.
http://computerworld.co.nz/news.nsf/news/clintons-visit-highlights-acta-...