[EuObserver] European Parliament backs controversial anti-piracy report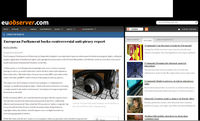 The European Parliament on Wednesday (22 September) adopted a non-legislative report on enforcement of intellectual property rights, calling for tougher application of intellectual rights and copyright harmonisation at the EU level. Meanwhile, civil liberties activists warn that such moves would undermine fundamental freedoms in the bloc.
While Ms Gallo said the text "makes no assumptions about any penalties that should be imposed and does not foresee a European 'Hadopi' law", critics warn it creates an opportunity for measures similar to French anti-piracy legislation, named for the new government agency created to hunt down online pirates that has the power to cut off internet access after 'three strikes' and even jail repeat offenders.
"The Gallo report is an illustration of the will of the entertainment industry to try to impose private copyright police and justice of the Net," said Jérémie Zimmermann, spokesman for online civil liberties pressure group La Quadrature du Net, in reaction to the parliament's decision.