[theinquirer] Stop the anti-counterfeiting trade agreement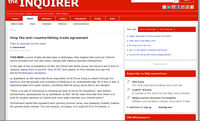 THIS WEEK a round of talks will take place in Wellington, New Zealand that could see Internet service providers turn into web police, charged with fighting copyright infringement.
In the light of this La Quadrature du Net, the French web liberty group, has issued a call to arms to netizens, asking them to put the "Stop ACTA!" alert graphic on their websites and sign the anti-ACTA Wellington declaration. [...]
"There is no way of influencing or checking the work of the ACTA negotiators," said Jérémie Zimmermann, spokesperson for La Quadrature du Net. "All the leaks show that their intent is to push for tougher sanctions on citizens and more legal insecurity over Internet actors."
http://www.theinquirer.net/inquirer/news/1600747/stop-anti-counterfeitin...