[ComputerAct!ve] Copyright infringement plans anger civil rights groups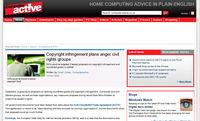 Opposition is growing to proposals on tackling counterfeit goods and copyright infringement. Consumer and civil liberties groups, as well as trade organisations, say measures proposed during secret trade talks threaten to undermine people's rights.
US government documents have been leaked from talks about the Anti-Counterfeit Trade Agreement (ACTA). This agreement is meant to be "about tackling activities pursued by criminal organisations", but the documents show that proposals could go much further.
Civil rights group La Quadrature du Net warned that the proposals also include criminal sanctions.
Jérémie Zimmermann of the organisation warned: "It is all being done in secret with no democratic oversight at all."
Consumer and civil rights organisations around the world have written to the European Parliament to protest the clauses clauses in ACTA.
http://www.computeractive.co.uk/computeractive/news/2255054/opposition-a...